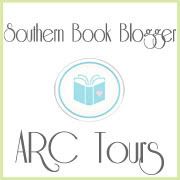 Wow! We are overwhelmed by the positive response we've gotten on the introduction of ARC tours. We couldn't be more excited to get this whole tour idea in motion.
Now that you've heard about the generals, we'd like to give you some specific information. Here are our guidelines for the ARC Tours.
Blogger Guidelines
:
You Must a Southern Blogger and Live in the South. I feel this should go without saying, but just in case it wasn't clear before. ;P
All bloggers must be blogging for 6 months or longer. We aren't trying to root people out or keep people from participating, we just want to have bloggers that have stuck with it for a while and understand the time and energy it takes to run a blog. That being said, we will make exceptions on a case to case basis.
All bloggers must update their blogs at least 2-3 times a week. Again, we just want to make sure ARCs are going to active blogs.
All bloggers must fill out the form under SBB ARC Tours. We'll be asking info like your name, blog and address so we have all the things we need on file for the tours. We won't be using this information for anything other than to get the books in your hands faster and it will be under a private google.doc that only Shannon and I can see.
All bloggers joining the tour must follow this blog or the Twitter account in some way. This is so you can receive all the latest info on ARCs going out, things going on in the South and link up your reviews.
How to sign up for a tour:
Once the ARC Tour Title post is up, comment to be included. That's really all there is to it. After you've followed the guidelines above, all you'll need to do is comment on a post (depending on how many slots are open for the tour) and we'll let you know via email if your in.
Tour Guidelines:
All ARCS will be out for 1 week only. You'll have one week to read your ARC and get it into the mail. If you receive your ARC on Saturday, it needs to be in the mail on the way to someone else by next Saturday.
Bloggers must e-mail us at SouthernARCTours@yahoo.com the day they get the book in and the day they send the book out. This is important so we can track where the book is going and give you the addy to the next person on the tour. When you email us on the day you send the book out, a delivery confirmation number is required.
Delievery Confirmation numbers are required for ALL ARCs. Once a blogger mails a book out, that blogger must email us at SouthernARCTours@yahoo.com with the DC#.
Bloggers must agree to post reviews for the ARC title within 2-3 weeks of their publication date. It can be 2-3 before or after its release but it must be sometime within that window. The publishers supplying us with ARCs are giving them to us with the understand that this will happen.
Three strikes and you're out. Should a blogger fail to follow the guidelines three times for whatever reason, we will be forced to remove their name from the touring list.
Other Important Stuff
:
If a blogger donates an ARC for the tour, they will get first priority over a tour of their choice. We want to share as many books as possible and always want to thank bloggers for wanting to donate. As such, we want to be able to offer that generous blogger a book they want in return. However, we are not responsible should some harm befall an ARC during it's vacation
Grab our SBB ARC Tour Button. Display it proud somewhere on your blog. Whether your currently participating in a tour or just waiting for the next one, we'd love you to show us and the tour your support.
Types of Tours:
Weekend Getaway: 4-5 blogger tour
Road Trip: 6 blogger tour
Tour of the South: 7-8 blogger tour
For some of these tours, we will be doing a "passport" feature. What this will entail is that the blogger will "stamp" the book's passport (a page in the front of the arc) with their name, blog name, city/state (and a little note if the blogger would like as well). Then, at the end of the tour, Shannon or I will take a photo of the passport to put up on the blog as well as a link to all reviews for that title.
Also On a Side Note, We Hope To Announce Our First Round of ARC Tour Titles by Monday!